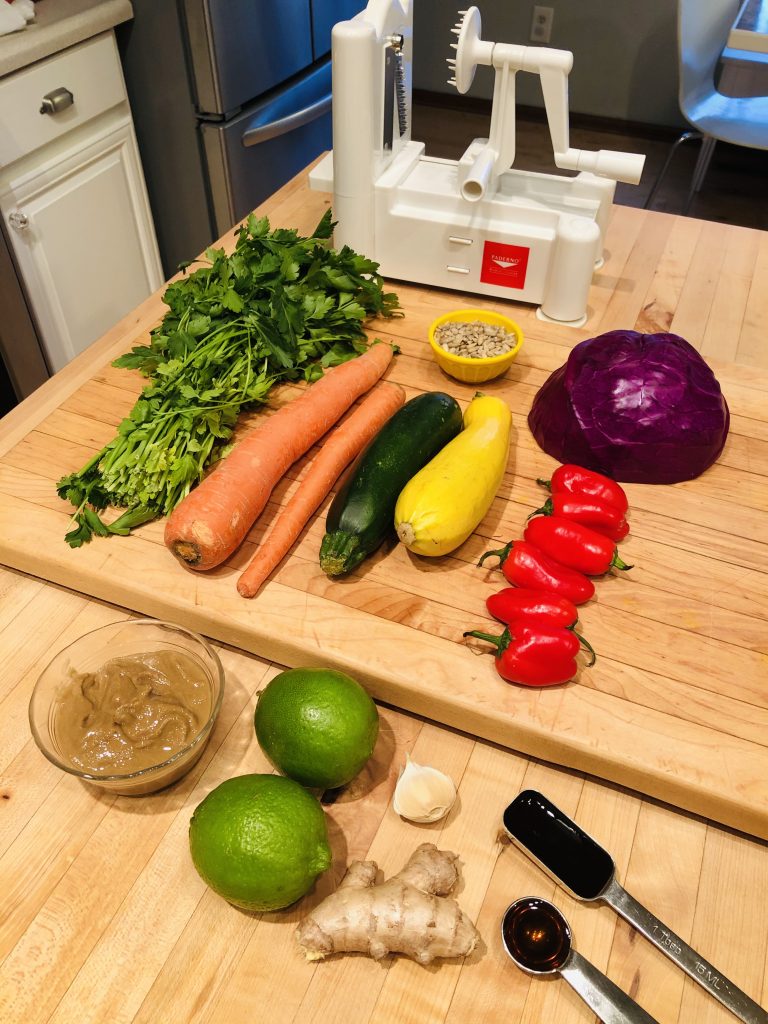 February is one of the coldest months here in Colorado. And it is COLD today. I was really craving this salad this week and thought sharing it with you would be a just the right thing to do! This salad is ideal to make late summer because zucchinis are bursting out of our gardens (literally) and spiralizing is such a fun and satisfying way to eat up those zuchinis.
Ingredients
Pad Thai salad:
2 cups shredded cooked chicken
2 zucchinis, spiralized
1 cup shredded carrots
1 cup thinly sliced purple cabbage
1/3 cup sunflower seeds (roasted or raw)
1/4 cup chopped parsley or cilantro
1 red bell pepper, sliced thin
Sauce:
1/4 cup sunflower seed butter (plain, unsweetened and feel free to sub almond or peanut butter)
1/4 cup freshly squeezed lime juice
1 Tbsp minced ginger root
1 garlic clove minced
1 Tbsp coconut aminos
2 tsp toasted sesame oil
pinch of sea salt
2 Tbsp water or olive oil (optional)
Instructions:
Combine sauce ingredients in a bowl and mix well then set aside. If you prefer less chunky sauce you can use a food processor but it is not necessary. To toast the sunflower seeds, heat pan and toss in seeds for just a couple of minutes with a pinch of salt, then set aside.
If using chicken, I prefer to buy an organic roaster chicken and shred the breast meat for this salad. It is easy and comes together quickly. If you are using raw chicken, then approx 2 chicken breasts should be enough. Bake in oven at 375 degrees for about 20 minutes or until cooked through. Once cool, shred and set aside.
Prep veggies accordingly and toss with the sauce in a large mixing bowl with tongs to coat everything. Add chicken and continue to toss.
Serve with toasted sunflower seeds and sprinkle cilantro or parsley as garnish.
Enjoy!